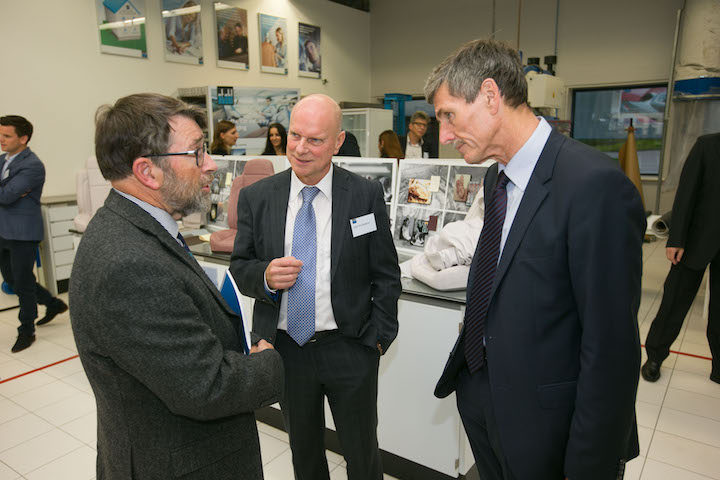 If you are interested in my thoughts about the trade the best place to start is with my weekly articles published under the Opinion section of International Leather Magazine  This has been running since 2013 so there is a lot to read. The "blog" items here are less regular and not intended to be so timely although I have now added in those I did for the University of Northampton from 2007 until 2018, since their site became insecure. If you look elsewhere on the International Leather Maker site you will find some more articles from each year that went into the printed magazine.
Beyond that I have written for La Conceria magazine, Leather International, and APLF so items can be looked for there. I was involved in editing World Leather, World Footwear and World Sports Activewear for a few years until 2007 but we did not add any names to many articles. 
Below I have added a mix of articles, academic papers, podcasts, and webinars.  For those items with no link they are often lectures where I have not made a recording – I rarely use notes.  Otherwise I will steadily try and add the full text as and when. Email me via the contact if you would like to know more.
APLF Academy: The Leather Industry in the Corona Era
April 2021.  My personal thoughts on how COVID-19 has and will continue to impact the industry. https://www.youtube.com/watch?v=3bQ7D-4mheI&t=141s 
APLF Academy: The Future of Leather
April 2021. I had the opportunity to interview Jon Clark and Fernando Bellese of Prime Asia on how they saw the future course of the leather industry most of whose thoughts have been accelerated by the Pandemic rather than slowed. https://www.youtube.com/watch?v=RHGpA2pdwGM&t=34s
Mike Redwood Podcast Interview Totally Leathered – Leather Repair Company
I was interviewed by the Leather Repair Company in May 2021. It is a long conversation but was fun to do and a lot of my ideas about leather come across https://www.youtube.com/watch?v=toX9H_ecT8o
Leather: its culture, history and relevance today – Mike Redwood
In a very hot New York at the World Leather Congress in midsummer 2019 I rather stumbled through this talk the day after spending time in the famous Swamp tanning area set up in New York between what is now Wall Street and the Brooklyn Bridge. This is where Julius Kuttner, the North American Manager of Booth and Co. and August Schultz met to discuss making a leather which would not stain ladies corsets at lunch at Racky's restaurant on Frankfort Street and commercial chromium tanning was set in motion. https://www.youtube.com/watch?v=YCCVUBlEGEY
Mike Redwood on Leather Market Share2
I rambled on uninterrupted in this September 2016 interview with HideNet but the points in this short video have proven true. Remember this was before we started seeing sheepskins being thrown away around the world and then hides being buried or burnt in the US, both of which have now become a feature. https://www.youtube.com/watch?v=lRrWA-JkjNg&t=143s
APLF Webinar: Why leather should not be purely for the luxury market
From February 2014, but still quite relevant nearly a decade on https://www.youtube.com/watch?v=EEe0EAOlPZA&t=247s
In much of my career I have worked in companies and sectors that have had an unusual view of marketing or openly opposed it. Clear exceptions would be ADOC, FootJoy (Acushnet) and ECCO where their great marketing skills taught me a lot.  Increasingly through the 21st century marketing has become better utilised, even if not better understood, and much easier to discuss than ever in the past.
Most of all when we work in an industrial area with products that are going to be sold on a business to business basis the producer company retains an orientation very much towards the product. One that says "this is what the product is like, and therefore you must accept what it is and take it more or less like this". In older times when consumers had less knowledge and less choice this was often successful. Rarely will it succeed in the modern world.
The opening picture was taken in late 2015 in Waalwijk, in the Netherlands. I was delighted to be invited to the Stahl Chemical HQ for the opening of their Automotive Centre and the picture shows me with Huub van Beijeren, CEO of Stahl (centre) and Prof Ferdinand Dudenhöffer of the University of Duisburg-Essen on the right. I like to watch the automotive industry carefully as strategic developments in the industry tell us a lot about the big trends evolving in society that all marketers must watch. It both drives and is driven by the megatrends.
Simplistic approaches are also common. Taking an item like leather and explaining it away as a "component branding" is far too easy as its role as a component varies hugely with end product. Sometime it is "merely" a component but often it is the only component or only significant component and clicking into a historical or text book ingredient branding mode will create all sorts of issues. Also the separation of business to consumer and business to business does not fit with modern times. The concept of Service Dominant Logic and the workings of networks in business (the ones I studied for my Bath PhD rather than the wine and chat one pictured with Huub and Professor Dudenhöffer, although they play an important role – rather Schultz's ideas for his chrome patents were formulated in a casual New York luncheon meeting) have meant that a form of direct to consumer marketing has becoming closer. Where the consumer sees the value, and how that is accessed is ever more important, and the 2020-21 COVID-19 pandemic has pushed that to the fore as retail shops were forced to closed. This was a trend already happening and many did not survive so D2C, direct to consumer, has taken over even in the leather world as a serious part of the business. 
Equally identifying the role of strategy within branding, the increasing dominance of the brand and the ever changing consumer is vital. What now gets termed as "post modern" marketing where the consumer uses the brand to express individuality or where they want to be in society, and thus plays a role in defining the brand has become a vital element. The concept that management can control the brand and manage it via the 4Ps is less and less true. Areas like Service Dominant logic, and understanding the dynamics of business networks are again vital in being successful.
My area has been in strategy, and strategy in selected segments in a global environment. I look a lot at business from a network perspective and this defines the way I have looked at the Booth Group (on which you will find a full separate section on this website).
To keep up to date with my thinking read my articles on APLF https://www.aplf.com/en-US/leather-fashion-news-and-blog/blog, ARSTannery https://tannerymagazine.com and most frequently  International Leather Maker, and my Blogs in ILM They are nearly all partially in support of the Leather Naturally programme but usually talk about it from the marketing perspective.
Below are some things I have written, with the more academic first:
Redwood M (2013) Corporate Social Responsibility and the Carbon Footprint of Leather. Journal of the Society of Leather Technologists and Chemists. 97(2):47-55 Corporate social responsibility
Redwood M & Ford D (2012) The Role of a Single Actor in Technical Innovation and Network Evolution: an Historical Analysis of the Leather Network Journal of Customer Behaviour. 11(2):181-196. DOI:10.1362/147539212X13420906144750
Redwood M. (2008) The challenges of the leather industry: Wolstenholme Memorial Lecture, Journal of the Society of Leather Technologists and Chemists 92(2): 47-52 DOI: N/AWolstenholmeLecture-redwood
Ford D & Redwood M. (2005) Making sense of network dynamics through network pictures: a longitudinal case study Industrial Marketing Management. 34(7): 648-657 DOI: 10.1016/j.indmarman.2005.05.008 Making sense of network dynamics through network pictures
Ford D & Redwood M. (2005) Managing Technology in Complex Networks Journal of the American Leather Chemists Association 100(3): 93-101
Going further with the Yak – Leather International
The Challenges and Opportunities ahead for European Tanners and their workforce as the opening paper for the EU Social Dialogue programme Objective 2025. Presented Bucharest April 2015 Cotance Bucharest final
Managing Public Relations in the Face of Attacks and Misdescriptions The Leather Forum, APLF, Hong Kong, March 2015
Who needs a car when we all live in cities? ILM automotive supply chain Conference, Shanghai, September 2014
The Significance of Good Science in Marketing JALCA Keynote talk, New York, June 2014
FILK Germany Keynote 2013 Extracting the True Value from Leather: a Marketing Approach
ISPO Sport show Munich Traceability in Leather 2014 (public lecture to European Outdoor Group members)
World Leather Congress, Branding and Marketing Rio, Brazil 2012
Cradle-to-Cradle Manufacturing Innovex (Innovations for extremes conference) 2011, University of Lancaster
Prime Source Forum HK 2012. "This House believes that countries like Bangladesh, Vietnam and Sri Lanka will soon displace China as a desirable region for sourcing textiles" proposed by Mike Redwood, and opposed by Tom Nelson, SVP and MD Asia of VF Corporation.
Asian Leather Chemists Conference, Carbon Foot printing & Corporate Social Responsibility Taipei November 2012
The Role of Ingredient Branding, Textile Institute Conference, 2013
Globalisation BASF Global Campus Session Keynote, Suzhou, China
Where is the Consumer value, Automotive Conference, Shanghai, 2012
How consumer power is defining activity in the tannery, presented at the Textile Institute Centenary Conference in Manchester.2011
Educating the Consumer, COUROMODA & CICB, Sao Paolo 2011
Strategic Plan for the Pakistan Leather Industry, commissioned by the Ministry of Light Industry (done with the late Dr Warren Weinstein) Finalised 2010
Future Trends and Expected Status of the Leather Industry Keynote Speech at the XVII UITIC Annual Conference, Leon, Mexico, also presented to the 17th UNIDO Leather and Leather Products Industry Panel, Addis Ababa 2010
Future Trends and Expected Status of the Industry to 2030 was a paper I co-wrote for UNIDO, completed in 2010