POSTED ON
Amanda Michel 1960-2017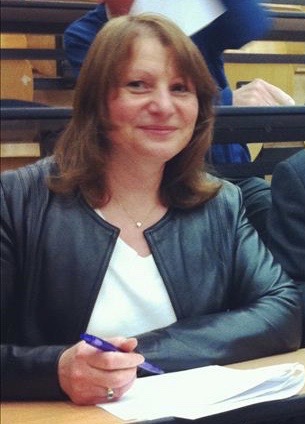 We tend to ask leather technicians whether they work in the wet end or in finishing and do not think of other roles. But as Christine Powley Williams made clear when she spoke movingly at Amanda Michel's funeral, Amanda was rare, if not unique, in her outstanding skills in microscopy and problem solving.
An industry that is short of skilled staff, and behind in its utilization of talented women, cannot afford to lose people like Amanda at such a young age. Having been so open with everyone about her cancer, which we knew was going to be a tough battle, her positive spirit and indomitable approach initially appeared to be winning. So it was with exceptional sadness that we gathered in a place she had helped get built and behind a large window known simply as "Amanda's Window" to say goodbye to someone who had already achieved more than most but yet we know was just coming into her prime.
Amanda left school with an interest in science and got a job at the BLMRA – the industry owned pre-cursor of the current BLC – where she was to work for 27 years. While there she obtained a chemistry degree through part time study and gained experience in a very wide range of leather making activities and associated problem solving. Most significantly she trained in microscopy under Betty Haines, whose book "Leather under the Microscope" remains the gold standard.
She left the BLC after 27 years to set up Leatherwise with Christine Powley Williams and continued to run it successfully alone after Chris joined SATRA. Leatherwise quietly built a strong reputation in testing and problem solving.
Amanda had been President of the SLTC and had recently been made an Associate Lecturer at the University of Northampton and a Trustee of the Museum of Leathercraft. This in addition to what was a major contribution to the community of Stanwick through her role with the Parish Council and Environmental group showed her determination to give back to the leather industry and to society.
Given that leather today is very much an engineered product microscopy remains a vital tool in problem solving and in research. Hopefully her chapter on the subject in the Leather Technologists Pocket Book will now be given renewed prominence and help stir a new generation of leather technologists and skilled technicians. As her husband Ian said "Leather was her work; and leather was her passion."
Mike Redwood
11th April 2017