MONTH: JANUARY 2012
POSTED ON Two Items below
Second of February, Le Royal Meridien Hotel – Chennai
If you are on your way to Chennai for the IILF this week then check the ICLT Corium Facebook page for updates of the Corium reunion on the 2nd February at Le Royal Meridien Hotel.    Details are still being finalised so do check with Paul Evans via Facebook or at the University of Northampton stand CC-04-D at IILF.  Chennai has become an increasingly important and well attended fair and it has always been hard to fit a Corium event into its busy business and social calendar.  So if Paul can pull it off this will be our first Corium event in one of the world's biggest and fastest growing leather markets, as well as one of the fastest rising consumer markets.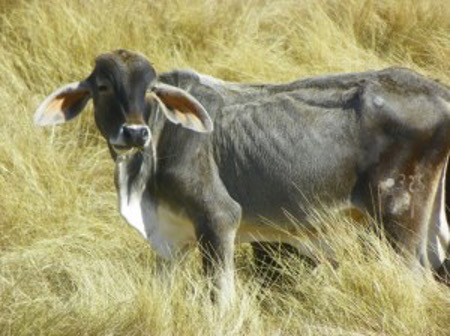 Across the world in Cuba
Across the world I was talking to a small farmer in the very west of Cuba this time last week. Vinales is really a tobacco area and farmers are expected to produce a certain quota of tobacco to sell to the state and only after that can they make for sale elsewhere.  As self employment and privatisation extend in Cuba this latter element of farmers activity is increasingly important.
This farmer kept a few cows, some sheep and goats. On top of that all farmers in the area also keep free range pigs and pork is a major meat on the dining table for locals and tourists alike.  Yet apart from the cattle hides all the skins are lost to the leather industry.  Pigskins are eaten and the goat and sheepskins are thrown away.  The cattle hides are used raw to make furniture and musical instruments.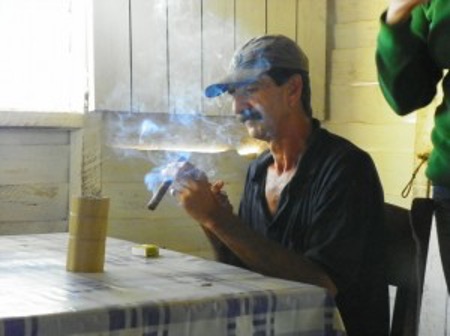 This wastage is surprising as since Russia walked away from Cuba in 1990 and it was left without oil or money and trapped from any chance of manoeuvre by the US embargo.  This led to a huge amount of ingenuity, consuming less, making do and not throwing anything away.  Average income in Cuba remains today about one third of what it was in 1989, yet the people are amazingly happy in this low carbon economy from which we can learn a great deal. It is much more than the outcome of sun, rum and music.
The embargo laid down by the USA – and last week the Republican candidates in Florida were still seeking votes by telling elements of the Cuban American electorate how they would bring down the Castros – makes it hard to import chemicals and this may be why the skins are being thrown away in this area. It is not the case throughout Cuba as in other parts the populations of sheep and especially cattle are very high.  As far as we know the cattle hides feed into four tanneries where some are used for footwear but most are exported as wet blue.  The skins appear to be vegetable tanned for local use.  Throughout the country, however, there is a lot of use of raw hide for chair covers and other simple uses.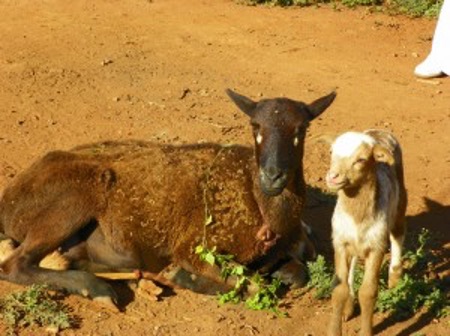 Three things stand out
Cuba right now is an excellent example of a low consumption, re use and low waste economy from which industry, medicine, agriculture and transportation worldwide has a lot to learn. Do it quickly before things change
Large areas of under-utilised grassland means that Cuba could, water management permitting, greatly increase its herd size and get closer to self sufficiency in meat and dairy products
In a world of scarce and declining resources no hides and skins should go to waste
Mike Redwood
28th January 2012
POSTED ON
Up early for the New Year
The new year has rushed upon with great speed and for many plans are afoot to get to Istanbul and for others to Chennai for the January trade fairs, That is quite apart from those that need to be at ispo, or the US Fairs from the Outdoor Retailer (always one of my favourites for new ideas) to the PGA golf show. For some it can be nearly eight weeks away.  I remember Lucy Kellaway complaining in her Financial Times column about some adidas employee having an email response that basically said "away until Easter" not realising that for many this was actually quite true.  I must say that I rarely use such notices as I do try and answer messages on the go.  Even adidas can afford a Blackberry.
Chennai this year will be important as we are combining with Fashion in a move that helps demonstrate the value of the new ICLT.  There will be a stand and hopefully between all the big parties and fashion events that are part of being at the AILF there will be a Corium event. Check with Paul Evans or via Facebook if you are going to be in Chennai.
In April the University is hosting two conferences:
From Hide to High Street – Leather Innovation
24 – 25 April 2012, Sunley Conference Centre, Northampton, UK 
The Textile Institute Fashion & Technology Special Interest Group in conjunction with TI Corporate Member, The University of Northampton, are pleased to announce a seminar on leather and its applications. The seminar will take place on Wednesday 25 April, preceded by an evening reception on Tuesday 24 April.  It is designed to build relationships and exchange ideas between industry and educational practitioners. The programme will cover aspects of product design, development and production of leather, footwear, clothing and accessories.
Confirmed Keynote Speakers:
Reg Hankey, CEO, Pittards: 'Adapting to global market environment'.
Guy West, Jeffrey West Shoes: 'Farm, Fork & Footwear'.
This sounds like a quite exceptional event and builds our relationships out into an adjacent and closely associated industry, which will likely benefit from our short courses and other evolving CPD (Continuous Professional Development)
Three days later we will be back for the SLTC Conference which is also at the University, followed by a Dinner at a hotel in town.  A really good agenda has been put together which we have just seen.  Here it is:
SLTC 115th Annual Conference 28th April 2012
10.00 – 11.00 WOLSTENHOLME MEMORIAL LECTURE
Professor Basil Kadarsis, The Museum of Leathercraft
11.15 – 11.45 The Value of Hides
Howard Johnson, Adelaide SpA (UK) Ltd
11.45 – 12.15 Efficient Optimisation of Resources
Stephen Trantum, Trumpler GmbH Co.KG
12.15 – 12.45 Machinery in Transition
Colin Clark, Beamhouse Engineering
13.30 – 14.00 A Modern Semi-Rapid Vegetable Tanning with High Exhaustion
Eric Poles, Silvachimica S.R.L.
14.00 – 14.30 CO2 High Pressure Tanning
Manfred Renner, Fraunhofer Institute
14.30 – 15.00 Chromium in Sediments Along the River Nene
Simon Pulley, The University of Northampton
15.15– 15.45 Impact of Construction Products Regulation on Leather Used in Interior Design
Jackie Glasspool, SATRA Technology Centre
15.45– 16.15 Supply Chain Traceability
Hilary Thompson, The Forest Trust
20.00 – 01.00 SLTC Annual Dinner Dance at the Park Inn, Silver Street, Northampton, NN1 2TA
Another great event by the sounds of it.  Numbers have been growing again at the SLTC so let us make this a record year.
Mike Redwood
5th January 2012