POSTED ON JANUARY 16, 2018
Waste is a design error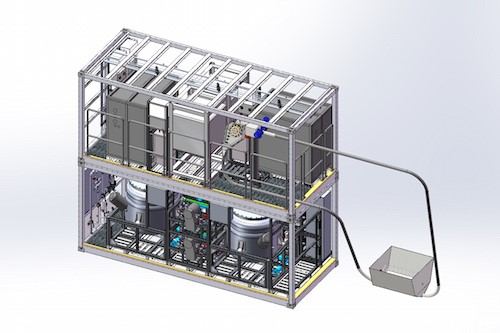 Two 40 foot containers are put together to form one module of the new plant
I first met Dietrich Tegtmeyer of Lanxess right at the beginning of this century – when Lanxess was still part of Bayer. I was working for ECCO based in Dongen in the Netherlands. We had just moved from our "Portakabins" into the vary vacant feeling new research centre and Hub for the leather side of ECCO. The concept of creating new leathers in one "HQ" and sending them out to other plants to make was not new; but it had never really worked elsewhere and management theory of the time ran strongly against the concept. Indeed one or two customers were unwilling to commit to ordering leather sampled from one location to be made in bulk elsewhere.
With Dr Tegtmeyer at that time we were talking about shipping used chromium back to Leverkusen for it be regenerated and returned for use as part of regular chrome offer. They had all the facilities and this at a stroke removed one problem from the waste stream.
When I left the company we had not yet got it working but fifteen years on two things are quite clear. If plant and equipment are properly established, if staff are well trained and managed it is clearly quite possible to successfully design and make leathers and move them from plant to plant around the world. Perhaps you might call it a core competence at ECCO, where the dynamic Hub is now a successful hive of very busy creative people.
Nor has Dr Tegtmeyer and Lanxess rested. The concept of looking at those materials often discarded by the tanner and finding useful ways of working with them has continued as a priority. Some of these ideas were presented in their third seminar for Brands and manufacturers over the last two days at their Cologne Headquarters.
They have now developed with the Leverkusen-based research institute INVITE a modular plant that can use shavings and organic biomass to create what they are calling "X-Biomer" retanning agents for manufacturing leather. The manufacturing equipment is designed for use directly on-site at the tanneries. The feasibility tests are currently taking place with the third project partner, the Heller-Leder tannery based in Hehlen, Lower Saxony.
This is truly a creative idea. What has been a difficult to handle solid waste – contentiously defined in many countries as a chemical waste – becomes a raw material for the further processing of leather. Lanxess estimates that a medium-sized tannery produces between one and two metric tons of shavings a day, so by using this production plant, the tannery could manufacture a comparable volume of liquid X-Biomer directly on site. Every trace of the waste is then recycled, leaving no residue, and without generating any emissions.
At this stage I have no knowledge of the properties it offers but I do know that top Japanese non-woven producers have been looking to put protein into their materials to enhance the moisture management properties, and hence the comfort, and improve the feel. So  having a protein based retanning agent makes sense, and could be very interesting.
By doing it on site at the tannery a big cost in transportation and logistics is eliminated, while the business model for Lanxess is comprehensively changed. And as a result the tannery evolves towards thinking of itself as a protein factory. I applaud that as since the hide and skin proteins are edible one does like it when the untanned material that is not going to make leather – the fleshings, lime and limed split trimmings end up in gelatine or in sausage skins back in the food chain.
Mike Redwood
January 2018