This long session requires you to scroll down to read about
Skin, Liming, Bating, Tanning Materials and methods, Retanning, Fatliquoring and Dying, Drying and Finishing,
Skin
The skin is the external covering of animals. It is made up of Epidermis, Dermis, and Hypodermis. The skin is an Organ. Molecules combine to form cells which make up Tissues which form Organs.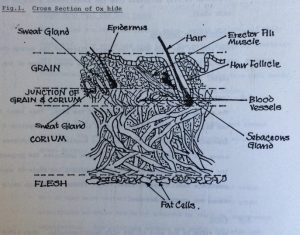 ---
1. 0 Epidermis
1.1 Composed of Keratin
1.2 Made up of layers of stratified epidermal cells
1.3 Lower strata transform with time into the upper strata
1.4 No Blood Vessels are present in this layer
1.5 Food diffuses through basal cells from the dermis
1.6 The lowers layers are alive
1.7 The upper layers are dead, keratinized, being continually removed
1.8 Melanocytes (which are pigments and give colour), are contained in the Malphigian layer
1.9 Many basal cells have finger like intrusions which give adhesion into the dermis
2.0 Dermis
2.1 Composed of Collagen
2.2 Layered
2.3 Densely packed
2.4 No transformation between layers as in the epidermis
2.5 Provides the basis for leather
2.6 Papillary Layer
2.6.1 Especially tightly packed to protect the other tissues present
2.6.2 Basically fibrous tissue
2.6.3 Also blood vessels, sweat glands, hair follicles, and associated muscle tissue
2.6.4 Papillate because of intrusion of hair shafts and sweat glands
2.6.5 Also called the Grain Layer
2.6.6 Grain surface is characteristic for each type of animal
2.6.7 Grain surface appearance is decided by hair size, number of hairs, and distribution (clustered or evenly spread etc.)
2.6.8 Eccrine glands discharge into upper papillary layer
2.7 Fibre Network Layer
2.7.1 Decides quality of the leather (strength-suppleness-firmness)
2.7.2 These qualities based on three dimensional weave
2.7.3 The Fibre network Layer has complex ramification of fibre bundles in 3D
a. Macromolecules -tropocollagen of regular shape 3000 Amstrong in length and 14 in diameter
b. These are ejected into a slimy gel called Ground Substance
c. They grew by regular packing into Fibrils
d. Fibrils align forming Fibres
e. Fibres combine to form Fibre Bundles
2.7.4 Extra cellular growth of this sort is very unusual (muscle cells' and epidermal cells' fibres are developed intracellularly)
3.0 Hairs
3.1.Epidermal structures
3.2 Origins deep in the Papillary layer
3.3 Either Primary – numerous three layered or Secondary – less numerous half to one third the size of Primary
3.4 Primary hairs have centre called medulla, middle called cortex and outer called cuticle
3.5 Secondary do not have the medulla
3.6 Sebaceous (fat) glands lubricate the hair and also affect (control) body temperature
3.7 Sudoriferous (sweat) glands also discharge into the upper follicle
4.0 Functions of the Skin Organ
4.1 Regulation of Body temperature
4.2 Storage of Body requirements
4.3 Protection
4.4 Elimination of waste products
4.5 Sensory detection and communication
Liming
1.0 Purpose
1.1 Unhairing to remove hair and epidermis
1.2 Liming to act upon the skins' epidermis, so that the skin may be properly unhaired
1.3 Liming to partially saponify skin fat and grease
1.4 To put hides and skins in proper chemical condition for liming
1.5 To swell and rehydrate skin protein to desired extent
2.0 Sweating
2.1 Oldest method
2.2 Skins are kept in dark warm room at 21-27 degrees C. bacteria are allowed to
proliferate, and they attack the region between the papillary layer and the epidermis first.
2.3 Hairs are picked off as possible – normally 20 to 40 hours
2.4 This process always damages the leather somewhat
2.5 Used for dewooling sheepskins when the wool is valuable e.g. Merino type
2.6 Essentially uncontrolled enzyme process
3.0 Enzyme
3.1 A Development of sweating
3.2 Antiseptic (NaClO2) controls unwanted bacteria
3.3 For sheepskins use 2% enzyme sprayed on the flesh
3.4 For hides use 1% in pits
3.5 Enzyme attacks the keratin
3.6 Optimum temperature for enzyme reaction is close that for bacteria in sweating
3.7 Advantage with effluent disposal is the absence of sulphide
3.8 There is no swelling, thus if tanned directly will give a hard leather
3.9 It is difficult to prevent drawn grain in tannage
4.0 Dimethylamine
4.1 Gives smooth grain
4.2 No sulphide in effluent
4.3 Temperature control is important
5.0 Oxidative
5.1 Oxidation of disulphide bond by chlorite
5.2 No sulphide in effluent
6.0 Reducing Agents
6.1 Cyanides – poisonous and disliked
6.2 Arsenic sulphide used to be used. Gives no pH increase and consequent swelling. Stopped in the early part of the 20th century.
6.3 Arsenic sulphide gives calcium hydrosulphide which is milder than sodium hydrosulphide
6.4 Sodium sulphide crystal 30% conc. while flake (more common) is 60% conc.
6.5 Sodium hydrogen sulphide
6.6 Na2S + H20 goes to NaOH + NaHS
6.7 As pH increases unhairing becomes faster.
6.8 A high pH needs no sulphide. From a low pH + Na2S gives NaOH creating a high pH.
6.9 The power of the reducing substances to increase the unhairing rate is primarily
dependent upon the OH concentration
6.10 Red arsenic is not soluble in water. It is dissolved in lime.
6As2S3 + 21 Ca(OH)2 goes to 3Ca(SH)2 + 4Ca(AsO3)2 + 2Ca3(AsS3)2 which goes to
6Ca(SH)2 + Ca2(AsO2)2 + 6Ca(OH)
7.0 Painting
7.1 Hair saving process – used with sheep etc.
7.2 Decrease water content after soaking to prevent swelling during painting (60%)
7.3 Paint on flesh side; use fibre brush (or spray)
7.4 Mixture; 1 part sulphide. 4 parts lime, 12 parts water
7.5 Na HS, CaCl2, Kaolin sometime used.
7.6 If trying to obtain wool fold flesh inwards down the backbone and stack – normally overnight
7.7 Used with calf – if hair is removed before liming growth marks are reduced.
7.8 Wool is removed over a beam – by knife or by hand – and graded
7.9 Shorter hairs are often not removed, and the subsequent liming is used for this
7.10 There is less damage to the skins than sweating
7.11 less wool is obtained than with sweating.
8.0 Flat Liming
8.1 Dropping hides into pits
8.2 Handling and allowing to drip down (said to give leather better grain in finished leather)
8.3 Plunge liquor and redyke
8.4 See goods are thoroughly wet when 1st dyking
8.5 Can be used to burn hair off bull hide
9.0 Sole Leather Hair Saving Process
9.1 2.5% lime, 0.1% sulphide, hide:water 1:6, seven days. This is a two or three pit process, using old liquors.
10.0 Hair Burning Process
10.1 3% lime, 2% sulphide, 1% hydrosulphide, for about 2 hours
11.0 Methodology Notes
11.1 Tanners prefer to pile hides overnight after liming
11.2 preserving hair uses 0.1% sulphide
11.3 Destroying hair uses 1.0% sulphide or over
11.4 Rockers – prevent pockets of bacteria
11.5 Paddles – not run continuously or grain would be damaged
11.6 Drums – 1-3 rpm maximum
11.7 Paddles and drums allow low float
11.8 An increase from 16 to 27 degrees C will halve the time required for loosening hair: more significantly it will double the rate of the solution of collagen.
Bating
1.0 Bating – Puering
1.1 Removes most of the lime
1.2 Produces a silky grain
1.3 Removes all swelling and plumping
1.4 The scud or dirt, short hairs, grease and lime soaps, dark coloured pigments, traces of epidermis are all loosened so that they can easily be removed by scudding
1.5 remains of the hypodermic tissue (flesh) are loosened so that they can be removed
1.6 Increases the degree of stretch possessed by the finished leather
1.7 Help suppleness, feel, pliability
1.8 Puering refers to dog dung
1.9 Bating refers to pigeon dung or hen dung or a substitute
1.10 Substitute is pancreatic enzyme (trypsin)
1.11 This substitution was discovered by Joseph Turney at Turney Bros. in Nottingham UK and Rohm of Rohm and Haas company, at turn of century
1.12 Small skin tanners, especially, continued to use dung into the 1950's
1.13 For pancreatic bates (now universally used) pH best is 8, temp about 100 degrees F.
1.14 Acts on reticulin, elastin and degraded protein
1.15 pH controlled by lime and ammonium salts
1.16 Some bates are pre-made to include pancreol plus NH4Cl, plus wood flour
1.17 The wood flour content can leave a brown deposit
1.18 Pancreol can be bought separately and the ammonium chloride added
1.19 The amount of bating done with shoe upper leathers is decreasing
1.20 Upper leather bating is done to soften and open up the grain, so it follows a surface delime only
1.21 Calf skins are difficult. The smaller the skins the more so. Too much bate gives loose flanks, but too little gives cracks as a result of lack of opening up
1.22 Goat skins are tough, and given a longish bate
1.23 Wool sheep have a fairly open structure and are given a shortish bate
1.24 Bate and delime are sometimes put together to give just sufficient bating to ensure clean and supple grain
1.25 Mechanical agitation helps loosening and removing the scud and fat.
1.26 Ration of skins to water 1:4. This allows skins to open up and float without washing
1.27 Bated pelts are slippery, non elastic, flaccid
1.28 Bated goods are very reactive
1.29 Scudding is done about this stage
1.30 Skin tanners used to check for a well bated skin by seeing if it would go through a wedding ring
2.0 Drenching
2.1 Treatment of bated pelts with an infusion of bran or flour or its equivalent
2.2 To continue and complete the removal of lime (which was largely done in bating)
2.3 To swell the pelt slightly, separating fibres into fibrils
2.4 To cleanse and free the grain entirely from scud and thus produce an absolutely clear white pelt
2.5 Frowned upon as an uncontrollable process
2.6 Enzymes in bran produce organic acids
2.7 CO2 also produced as bubbles of gas within the skin, causing the skin to float
2.8 This floating is called rise, and indicates that a certain amount of acid production. Sometimes done 2 or 3 times
2.9 These bubbles help separate the fibres
2.10 Organic acids neutralise any lime
2.11 Safer than bran drenching is adjustment of pH by addition of weak organic acids (lactic, acetic)
2.12 If pH is required below 4.3 salt is used to prevent swelling
2.13 If skins are tanned while swollen leather comes out hard and sometimes brittle
2.14 Uneven swelling distorts, weakens the fibre structure
2.15 Gases produced are hydrogen (45%), Nitrogen (26%), Carbon dioxide (25%) and oxygen (2%)
2.16 Acids produced are lactic (77%), acetic (19%), formic (3%), and butyric (1%)
2.17 These acids dissolve the remaining lime
2.18 The particles of bran cleanse the skin, absorbing dirt and grease
2.19 Sometimes done instead of pickling, giving stock a mildly acid reaction before tanning
Tanning Materials and Tanning Methods
1.0 Vegetable tanning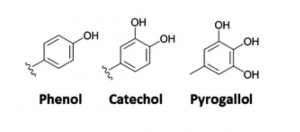 1. The major tanning method until the 20th century
2. Uses extracts of barks, leaves, fruits, berries, roots and wood
3. Used mostly for Shoe Soles, Belts, Saddlery, Straps, Industrial Leathers, Classical Upholstery, Shoe Linings, Bookbinding, and many types of Leathergoods
4. There are hundreds of possible tannins. Fewer are used now than 150 years ago. Less developed countries use what is available. Below from Ron Reed, Science for Students of Leather Technology, Pergamon, 1966
Bark
Wood
Fruit
Leaves
Root
Growths

Wattle

Oak

Chestnut

Mangrove

Eucalypts

Spruce

Hemlock

Babul

Konman

Avaram

Arjun

Karada

Quebracho

Oak

Chestnut

Burma cutch

Eucalypts

Urunday

Tizera

Myrobalans

Valonia

Divi-divi

Algarobilla

Tara

Teri

Sant

Pomegranate

Sumac

Dhawa

Gambier

Mangue

Canaigre

Badan

Taran

Potentilla

Palmetto

Turkish galls

Chinese galls

Knoppern
5. Vegetable tannins are colloidal, non crystallisable
6. They are feeble acidic and will convert pelt to leather
7. They normally consist of a tan and a non-tan element
8. All vegetable tannages are derivatives of phenol
9. The word phenol is used to refer to any compound that contains a six-membered aromatic ring, bonded directly to a hydroxyl group (-OH). Thus, phenols are a class of organic compounds of which this phenol is the simplest member.
10.On destructive distillation tannins yield either Pyrogallol or (pyro) Catechol
11.Pyrogallol Characteristics:
a. CHESTNUT WOOD, MYROBALAN FRUIT, SUMAC LEAVES, GAMBIER
b. give a blue/black stain with iron
c. give a creamy leather that does not discolour with light
d. left for 60 days the liquor "blooms" creating a sand coloured sludge (ellagic acid)
e. usually less astringent that catechols
12.Catechol Characteristics
a. MIMOSA BARK, QUEBRACHO WOOD,
b. Go greenish black with iron
c. Gives a reddish to brown leather which goes more reddish in the light
d. Liquor over time gives a thick red sludge (phlobaphenes)
e. Usually more astringent than pyrogallols
f. Give more problems for conservators
13.Astringency is the property of contracting or drawing together the fibres of the pelt – by abstracting water, or neutralising the forces which do not allow it to be held. Antonym: mellow (firmness:softness)
14. Presence of non tans affects astringency (A), colour, speed of tanning and acidity of the tan.
15.
Nature of Leather
Material
Country
Nature
Tan:

NT

SUGAR
COLOUR

 

Astring
Heavy
Chestnut

Wood

France

Spain

Pyrogallol
11:4
Med High
Dark
Med
Soft
Myrabolan

Fruit

India
Pyrogallol
35:16
Fairly

High

Pale drab
Low
Medium

Heavy

Mimosa

Bark

Natal
Catechol
31:11
Low
Pink
Very
Hard
Quebracho

Wood

S.America
Catechol
20:2
None
Red
Very
Soft
Sumac

Leaves

Italy

Sicily

Spain

Cyprus

Pyrogallol
26:12
Moderately

High

Cream
Low
Soft
Gambier

Leaves/Twigs

Malaya
Pyrogallol
40:25
Moderately

High

Rich Tan
Low
16. High proportion of sugar makes liquors liable to ferment and the leather susceptible to mould growth
17. All tans of value have proportion of tans exceeding non tans (e.g. quebracho 10:1)
18. The pH of tanning is important. Low pH gives swelling, and affects the accessibility of the reactive protein groups in the hide. Also affects the tans.
19.Liquors can be blended. Most tanners have a house blend mixing Mimosa, Quebracho and Chestnut.
a. pH 2 gives large particle size, some precipitation, formation of sludge and will likely over tan the grain
b. pH<5 gives a slight increase in particle size, slight increase in the rate of tanning, slowing up of diffusion
c. pH >5 gives a definite decrease in particle size, increase in diffusion, decrease in combination with the hide, darker colour
d. pH 8 gives no tanning, tan becomes colloidal, will strip the tan out of the leather and solubilise the tan
20. Originally vegetable tannins were extracted from the vegetable material (barks, wood etc) using cold water. After 1890 this was done by boiling; hot water will always extract the tan more quickly than cold. It may also dissolve more unwanted materials which may give the leather a darker colour or affect the tan colour (esp making the tan more astringent)
21.If you buy liquid extract expect about 30% tan and with powdered extract (most used, indeed almost only used these days) 60-65%
22.Sumac is used in scouring and retanning split hides – very mellow and drawn grain is almost impossible. Also used with light leathers such as sheep.
23.Vegetable tans react with the NH2 groups in the protein.
Sole Leather
1. Penetration/combination (with the hide) is complicated by attempts to get a good weight. Sole leather is sold by weight. The tan should penetrate the leather thoroughly before any fixation begins
2. First tan to reach the leather must be weak in concentration and mellow to prevent tanning the surface early on
3. So a set is created that moves from low tan:non tan ratio to a high tan: non tan ratio.
4. A counter current system is normal where the hides move through a series of pits in one direction while the liquors move the other way.
a. Suspenders
b. Handlers
c. Layers (cold method)
d. Or Hot Pits (more common today)
5. In the layers each hide is sprinkled with solid tan material. Fermentation and deposition in the hide gives solid leather in 3 months. Traditional oak bark leather is required to be in the tan pits for a minimum of one year.
6. Basic method in pits with rockers. Bk is Barkometer.
 
Time (days)
Bk deg
Liq/hide

ratio

pH
Tan %
SUSPENDERS
10 (1 in each)
0-40
6/1
3.8 to 3.2
0.4 to 7
HANDLERS
8 (2 in each)
43-140
3/1
3.4
14 to 25
HOT PITS (40degC)
4 (2 in each)
134-141
3/1
3.4 to 3.3
23-26
7. Hides in suspenders are completely delimed after one day
8. Avoid kiss marks (the suspended hides touching each other) especially in the suspenders
9. Should get complete penetration after second day
10.Run off the weakest suspender each day. Top up with 40% from the next suspender. There are twice as many suspender pits as handlers, therefore 40% of liquid run off daily from each handler is split between two suspenders. The other 20% add to top up each suspender is water. Only about 15% of each hotpit is run down each day and the top handler is therefore topped up with this 15%.
11.The quicker the process/method the closer the control necessary
12.If using a drum tannage a pretan is necessary, and the leather will be different
Shedding vegetable tanned leather
1.0 Treat the leather so the veg tan does not migrate to the surface
1.1 Sole leather is normally required with a light colour, as a dark colour indicates excess tab in the grain, which might lead to cracking
1.2 Work with a combination of rolling and drying to prevent migration and to consolidate the leather into a firm, good wearing material.
1.3 Water content is very important.
1.3.1 For rolling on drop moisture from 45% to 20%
1.3.2 For rolling off drop it from 20% down to 12%
1.4 The amount of labour used in shedding is 50% of the total of the whole manufacturing process
2. Typical shedding process for sole leather.
2.0 Pile for 3 days to allow fixation of the tan
2.1 Surface wash in a weak tan pit or with a syntan liquor for 15 minutes
2.2 Scour to clean the grain and then samm to to 45% moisture content
2.3 Pile, then bleach and then rinse
2.4 Put a light oil on the grain, then hang at 20 degrees C
2.5 Pile, then strike (set) and give a 2nd oil and a Flesh wash
2.6 Hang to dry to 20% and then roll on
2.7 Dry down to 12% and then roll off
2.8 Hang in the stove to dry
2.9 Condition (dampen)
2.10 May slightly buff the grain before adding a little polish
3. The bleaching approach
3.0 Add to a pit with a Bk higher than the final hot pit, at a temperature of 32-38 deg C and with a high sulphite concentration. Quebracho, mimosa or a syntan plus Myrabolams or chestnut,
3.1 Sometime use two pits the first highly sulphited to strip out the dark tans and the second with a pale extract
3.2 Shoe manufactures prefer a lighter coloured grain as they think indicates less tan in the surface and less likelihood of the sole cracking
3.3 No ventilation in the sammying room (and dark) since the light and ventilation will bring tans to the surface.
3.4 Striking out removes the growth marks form the hide and flattens the grain
3.5 Flesh wash fills up the flesh
3.5.1 Use sludge from pits if it is light enough in colour
3.5.2 Or can use china clay or chalk (dispersed in a mucilage such as size, glue, Irish Moss, Linseed plus sulphated oil (soap or glucose as a lubricant) plus some colouring matter to give a light yellow)
3.5.3 This should add weight and even up any irregularities in the flesh
3.6 Conditioning after stoving helps to reduce any tendency to crack. Also gives extra weight.
3.7 Rolling helps to control softness. Rolling wet makes the leather hard and rolling dry makes it softer
4. Shoulders and Bellies (less advanced than sole)
4.0 There is a tendency to drum for welting leather, harness backs
4.1 For sole type shedding
4.1.1 Drum bleach for 45 minutes
4.1.2 2.5% Epsom salts/glucose for 30 mins
4.1.3 Dry, roll, etc
4.2 For welting
4.2.1 Wash, then level up the substance
4.2.2 Clear the grain and add sumac
4.2.3 Samm and oil
4.2.4 Stuff the flesh with dubbin (tallow/cod)
4.2.5 Set and dry out
4.2.6 Dubbin
4.3 For bellies, insoles
4.3.1 Should have a mellow/light tan such as 65% mimosa with 35% myrabolams
4.3.2 Suspenders (5) Bk 15 to 40, pH 4.5 to 3.6 Handlers (3) 50,75,90 pH 3.6,3.4,3.2
4.3.3 Bleach if necessary
4.3.4 Drum with Epsom salts/china clay. (little as possible Epsom salts as they can migrate as spew)
4.3.5 No hot pitting
4.3.6 Oil the grain and flesh, then dry shave
2.0 Chrome Tanning
2.1 The predominant tanning method throughout the world
2.2 Uses chrome sulphates
2.3. Used for Shoe Uppers, Gloving, Clothing, modern Upholstery, certain types of Sole Leather and finds its way into most forms of leather
2.4 Fully fixed to fibre and does not wash out
3.0 Alum Tanning
3.1 The ancient art of Tawing
3.2 Uses Alum or aluminium sulphate or chlorides
3.3 Used for Glove Leather, Fur skins, and Cricket Ball Leather
3.4 Tannage is weak and can be washed out
Alum Tannage
One of the oldest ways of making leather
Called tawing
Tawed leather is pure white, very stretchy with a soft, full, clothy feel. The fine plush, velvety, feel desirable in suede
Hard to make basic salts from ordinary alum
Flour delimes, egg yoke fatliquors
Also flour and egg yoke fill the leather and improve its feel, affording some protection against wetting
Alum tannage is weak against wetting and can wash out
Alum leather not easily dyed
The longer it is kept in dry crust state the harder it is to wet back
UK method for 100 lambskins
5-6 lbs flour, 2-2.5 lbs Alum, 2-2.5 lbs salt, 40 egg yokes with 1.5-2.5 gallons of water
Continental method (more modern)
10% flour, 7.5% alum, 2% salt, 7% egg yoke, 80% water drum one hour
leave overnight. Drum in the morning, horse up grain to grain for 2 days/
dry out, condition, stake
Potash alum is of limited solubility
Aluminium sulphate can be used
Al sulphate can be used as a retan to give perspiration proof properties
Aluminium chloride good; will form basic salts without precipitate
Lutan Tanfix (BASF product – aluminium complexes) gives a fine nap and improves the intensity of the dye
The use of basic alum after chromium gives a firmer leather
Small amounts of soda sometimes added to alum making it slightly basic
Type of salt used affects the leather. Sodium sulphite gives a soft leather but looser grain. Sodium chloride gives a harder leather but tighter grain
4.0 Oil Tannage
4.1 Uses Cod oil.
4.2 Wash Leathers (chamois) and washable Glove Leathers
4.3 Creates a very absorbent leather
4.4 Does not wash out
5.0 Aldehyde Tannage
5.1 Formaldehyde is normal but Glutaraldehyde is also used
5.2 Used for washable Glove Leather and Clothing Leather
5.3 Very resistant to sweat, and does not wash out. Absorbent.
5.4 Used as a pretan (wet white) to allow easier management, transportation and processing of skins prior to tannage
6.0 Syntans
6.1 Enormously varied raw material sources and types
6.2 Properties and utilisation very widely spread
6.3 Normal used in conjunction with other tannages to produce selected combined benefits – tight flanks, white leather, low density etc.
Retanning
1.0 Stiasny
1.1 Stiasny started the research
1.2 He produced Neradol D which was later found to be a non-swelling acid which would wash out of leather. It is an auxiliary syntan.
1.3 Syntans are now a complex and expanding subject. In the 1960's we looked at three types:
a. Auxiliary
b. Replacement
c. Sulph
2.0 Auxiliary
2.2 These cannot tan themselves
2.3 Are strong acids, (pH 1.7-2.0)
2.4 Hasten veg tan, dissolving quebracho
2.5 Increase the tensile strength of leather
2.6 Increase the ability of the leather to take up grease
2.7 Some have pH up to 3.6, which usually means they have been partly neutralised.
2.8 Tan: non tan ratio varies considerably
2.9 Ash contents very variable. Important to check as only a certain amount of ash is allowed in some leathers.
2.10 7-10% solution can be used for bleaching, dipping hides in momentarily.
2.11 2-4% on pelt weight normally used in tanning.
2.12 With veg tans they
a. restrict mould growth
b. prevent sludge
c. speed up tan
d. give more economical use of tan
2.13 Used early in the process they increase the penetration of the tan.
This gives less fixation in the grain and reduces the likelihood of cracking leather.
2.14 Will remove iron stains
2.15 Aid to rapid drum tannage of sole leather
2.16 Do not affect the weight giving properties of veg tan (important as sole leather sold by weight)
2.17 In light leather used with kips and sheep etc.
a. clear the colour
b. disperse veg tan
c. to get improved tightness of the belly (sometimes)
2.18 Essentially additives
3.0 Replacement Syntans
3.1 can tan on their own
3.2 Give veg tan type
3.3 More expensive than veg
3.4 can replace veg with a change in process
3.5 Only used when props are superior to veg
3.6 pH 3-3.5
3.7 tan: non tans higher than auxiliaries
3.8 Very variable colour. White to pure yellow to brown.
3.9 Unless specified the white is unstable to light
3.10 Some have mild bleaching properties
3.11 Some have mild dispersing properties
3.12 Tannage varies from mellow to firm
3.13 Gives lighter colour than veg
3.14 Gives tighter grain than veg
3.15 Gives better dyeing properties than veg
3.16 20-25% (on veg tan) in sole leather and 25-30% (on veg tan) in harness leathers.
4.0 Sulph Tan
4.1 Really replacement Syntans
4.2 developed before replacement syntans.
4.3 Particularly important sulphur, and others which give white tannage which is fast to light.
4.4 generally expensive
4.5 Used on ewes, bucks, reptiles
4.6 Used largely along with chrome
4.7 pH 2.2-2.4 at 10% dilution
4.8 Props vary widely. Look for light fastness, staining with iron, salt sensitivity, bleaching of iron stains, softness/hardness.
5.0 Drawn Grain
5.1 Frequently syntans are used to draw the grain (e.g. for shrunken shoulders)
5.2 Buffalo is given characteristic grain by drawing
5.3 For drawing/shrinking grain
a. water content kept down
b. astringency can be increased by adding formic acid
c. normally a pretan before chrome
d. if to be dyed do not use expensive white syntan
Fatliquoring and Dyeing
1.0 Uses, purposes and effects
1.1 Softness
1.2 Pliability
1.3 Stretch
1.4 "run" and handle
1.5 Ability to take up or resist water
1.6 As an aid to the resistance to abrasion
1.7 As an aid to the resistance to becoming dirty
1.8 As an aid to the resistance to chemical attack
1.9 To improve tensile strength
1.10 To improve colour
1.11 The effect achieved depends on
a. Type, state of leather
b. Type, quantity of oil, fat, wax or grease applied
c. Method of application
d. Whether it is all on the surface or has penetrated into the internal structure
2.0 Fatliquoring
2.0 The application of emulsions of oil to the leather. Process only about seventy years old.
2.1 Emulsion: milky liquid consisting of water holding in suspension minute particles of oil or resin by the aid of some emulsifying agent.
2.2 Best emulsifying agents are soaps. Na Salt, Olive oil soaps (often specified), Sodium Oleate (to be preferred)
2.3 Originally involved emulsifying grease with oil and smearing it on leather.
2.4 To provide light leather with a greater softness and flexibility.
2.5 Processing is done in drum. 1% oil put in leather plus half its weight in soap
2.6 Many soaps will come out in leather as spew with pH less than 7.
2.7 Leather must be neutralised so that soap will not break in outer layers.
2.8 Sometimes add a little alkali to fatliquor to prevent soap breaking too early.
2.9 Egg yoke is a valuable fat with good filling properties.
2.10 As amount of chrome in leather goes up less fat is needed. But more chrome can lead to a coarser grain).
2.11 COD Cheap; gives soft leather, raggy in flanks, will smell if a lot present. danger of dark patches in flanks.
2.12 SPERM usage discontinued for environmental reasons. gave a dry handle, less soft than neatsfoot, softer than cod. was sometimes used instead of neatsfoot. Proved difficult to substitute.
2.13 NEATSFOOT expensive; leather very soft, beautiful. Used with glace kid and the best calf. fast to light. Not economic with vegetable tans as its effects are not obvious.
2.14 Sulphated oils (or sulphonated) stand up to acids better than soap dispersions. They are good, fine dispersions. Penetrate well into leather before being deposited; give good lubrication. Said not to soften as well as raw oil.
2.15 Sulphated oils made by treating fish, animal or vegetable oils with 10-20% Sulphuric acid at very low temperatures. Sulphonated similar but higher temperatures used. Sulphonated more stable to acids.
2.16 Sulphated and sulphonated oils are often mixed in fatliquors.
2.17 Sulphited oils made by treating oil with Sodium bisulphite. More acid stable than sulphated or sulphonated Give better lubrication to leather.
2.18 For fatliquoring high temps, low float and a time of 20 to 45 mins is normal.
2.19 Leather out of drum should not be greasy.
2.20 Horse leather up (overnight preferably) to cool
2.21 If put hot out of drum into any drying system will come out hard, and perhaps also loose.
2.22 Control of size of globules important to get proper uptake.
Drying
1.0 Key Elements
1.1 Speed
1.2 Economy of Labour
1.3 Control of Conditions
2.0 Methodology
2.1 The taking up of the moisture from the leather by the air
2.2 Ventilation is important to prevent the air becoming saturated
2.3 Relative humidity (R.H.). The % of the moisture in the air is compared with the amount which would saturate the air under silmilar conditions
2.4 Requirements
a. Quick drying
b. Great outflow for floor space
2.5 Steam is now a direct cost, no longer a bi-product
2.6 Labour is now expensive, so automation is necessary
2.7 Louvre method is based on slats in windows, and addition of steam
2.8 Improvements: ducts and vents at intervals, quantity, quality (used and fresh), temperature, humidityof this air controlled
2.9 Use of counter current system
a. driest leather mmeest driest air
b. wet leather meets partially saturated air, therefore dries slowly
c. prevents solubles migating to surface
d. conserves labour
e. use depends on amount of space available
2.10 In a conveyor or any hanging system distance between hides and skins important, as effects ventilation
2.11 Square poles can mark leather (result of over drying at edges). A rounded pole of two inch diameter best
2.12 Before drying moisture in hides or skins is reduced by piling, horsing, or sammying
2.13 All leathers improve by being allowed to lie about in cool conditions
2.14 To prevent shrinkage during drying various techniques are used
a. Nails
b. Toggling
c. Paste
d. Vacuum
e. Framing
3.0 Nailing
3.1 The leather is nailed or tacked onto wooden boards
3.2 Wooden headed hide nails are used to save operative hands
3.3 The leather is strained with nails in legs, butts, and neck
3.4 Leather belts are sometimes used to pull leather out to give greater area
3.5 Used especially on patent leather
3.6 Primarily to get leather to lie flat, rather than increase area
3.7 Increase in area normally gives decrease in quality, therefore not economic. Gives hard handle, occasionally loose grain, loose and thin flanks, Especially obvious if leather nailed too wet and dried too fast, when it is inclined to shrink greatly
3.8 Slow dryong gives better leather
3.9 Before nailing iron on the grain side
3.10 Iron in the direction of the hair
3.11 Iron temp (425degF) (200degC) very high
3.12 Ironing smooths the grain and lowers porosity
3.13 Machine plating is poorer as solely from above
3.14 Common on vegetable tanned light leathers
4.0 Toggling
4.1 Does not put holes in leather lke nailing
4.2 Toggling can either be bookcase stove type or a through feed tunnel
4.3 Similar to nailing but board replaced by perforated metal and nails by toggles
4.4 Gives good air circulation on both sides of leather speeding drying compared to nailing
4.5 Toggle frames have longer life than boards
4.6 Easier to keep clean
4.7 Lighter to move and mechanise
4.8 Less fire risk
4.9 Invariably used in stoves or drying tunnels
5.0 Paste Drying
5.1 Wet skin slicked onto galss plate, grain on plate, held by paste
5.2 Alumninium, enamel, stainless steel are all used occasionally but glass most common by far
5.3 Area again aproximately 4 to 8%
5.4 Rough parts of the skin, especially the neck area, are made flatter, giving better quality
5.5 As thin a paste as possible is used
5.6 Paste is usually purchased made up. Otherwise make a starch solution, thicken with Me cellulose, and a little glucose and Irish Moss
5.7 The object is to leave as much paste as possible on the plates and as little on the leather after dring
5.8 Pure chrome leather can give shrinkage or with strong pastes tear
5.9 To prevent this sectional control of the tunnel was introduced e.g. tunnel a. 50degC/50%RH b. 50-55DegC/40%RH c. 60degC/40%RH most large paste units have five or six sections
Finishing
Purpose and Methodology
1.0 Finishing is the application of one or more coats of finishes or seasons to the leather
1.1 To improve the appearance, either by levelling the colour and hiding blemishes, or by providing a base for the production of a polish or gloss
1.2 To afford protection against moisture, oil and abrasion
1.3 To make the leather colour fast to wet and dry rubbing
1.4 To produce some special effect
2.0 Methods for Grain Leather
2.1 The Main Stages which may be used
2.1.1 Water Stain and fill
2.1.2 Stain (bottom coat)
2.1.3 Season (second coat)
2.1.4 Clear Season (top coat)
2.1.5 Fixative
2.2 Water stain and stain coats are often applied by pad (roller coater now more in use in the 1990s)
2.3 Later water coats are normally sprayed
2.3.1 hand spray
2.3.2 machine spray
2.3.3 curtain coater
2.4 Some put on 5- 6 coats with mechanical treatment (pressing etc.) in between
2.5 Some leathers only use a wax for water resistance and face
3.0 Preparing Leather for the Finish Coat
3.1. Always check the leather carefully before applying the finish
3.2 Setting – watch for creases
3.3 Trimming – watch for loose bits of flesh, for toggles, nails etc. in the leather
3.4 Leather should be flat
3.5 Fatliquoring – watch for dark patches, indicating uneven fat distribution. These will make the finish go on unevenly and create streaks if put on by hand, the finish will tend not to adhere, and the leather will go black on buffing
3.6 Similar problems will occur if fat is on the surface of the leather
3.7 Loose flesh must be removed by patch buffing
3.8 Over thick necks should be buffed down
3.9 If leather is firm it should be boarded
3.10 If neck is hard it should be slightly staked
3.11 If the fat distribution is OK it is fine to move on to finish full grain leather
4.0 Finish Films and Materials
4.1 Finish is any coating supplied to leather to protect the grain or for some other purpose
4.2 Generally the coating applied is thin (except perhaps wax coats)
4.3 Films usually give brighter surface (or face) to the leather after rubbing, plating, glazing or rolling
4.4 Materials:
4.4.1 Natural protein types Egg Blood Casein Glue
4.4.2 Natural and Synthetic Carbohydrate Gums and Mucillages Natural- Seaweed and Linseed Synthetic -Me cellulose
4.4.4 Resins Natural resins – Shellac Synthetic resins – Acrylate Butadiene also nitrocellulose
4.5 Casein
4.5.1 Protein from milk
4.5.2 The powder is soluble in weak alkali (e.g. borax)
4.5.3 Very fine casein powder does not disperse as readily as coarser types
4.5.4 Standard particle sizes are 30/60/100 mesh (number of particles per inch)
4.5.6 Gives a good clear film, but a brittle one
4.5.7 Plasticiser is used to prevent brittleness. (10%glycerine, TRO -Turkey Red Oil, Polyglycol)
4.5.8 TRO tends to keep the casein on the top of the leather
4.5.9 Glycerine tends to take the casein into the leather
4.5.10 Used as a binder for pigments
4.5.11 If solution is kept a long time, preservatives are required (two better tan one)
4.5.12 More viscous than albumen
4.5.13 Gives filled appearance
4.6 Albumen
4.6.0 From egg or blood
4.6.1 Heat sensitive
4.6.2 Comes in flakes or bulbs (I have only used flakes)
4.6.3 Dissolved by soaking in water, stir overnight at no greater than 30degC, disperse the following morning 4.6.4 There is a danger of overheating while dissolving
4.6.5 Examine for excessive non-solubles before use
4.6.6 Ammonia(NH3) or diethylene glycol in small quantities helps dissolving
4.6.7 Clean the container before use
4.6.8 Nitrobenzene or HCHO used it goes bad
4.6.9 Plasticiser always used
4.6.10 Blood is cheaper than egg
4.6.11 Black blood (not defibrillated) is used purely for cheapness on poor leather
4.6.12 Make up materials to 10%
4.6.13 Solid content should end below 2%
4.6.14 Egg does not give the filled appearance that casein does
4.6.15 Egg is limpid compared with casein
4.6.16 Casein, egg, and blood can be mixed to suit the absorbency of the leather
4.7 Seaweed Mucillages
4.7.0 Algin extracted from laminaria with caustic soda
4.7.1 Colour of algins are from browns to colourless
4.7.2 Irish Moss is very useful (trade name Blandola)
4.7.3 Bought dry in bales
4.7.4 Now provided as 2% jelly
4.7.5 A 4% jelly would almost stand upright
4.7.6 May contain Mg, Ca salts which can interfere with other parts of the finish
4.7.7 TRO is used to sequester these salts
4.7.8 TRO is also a good plasticiser
4.8 Linseed Mucilages
4.8.0 Seeds are boiled in water for 2 hours
4.8.1 Strained while hot
4.8.2 Care is taken not to break the seeds as mucilage comes from the husks
4.8.3 Good medium for dye
4.8.4 Does not look as though it has been stuck on the leather, rather a part of the leather
4.9 Mucilages
4.9.0 Mucilages fill the leather
4.9.1 Mucilages protect, enhance the grain
4.9.2 A simple finish: protein albumen plus casein plus mucilage. Is not fast to water or to spotting.
4.10 Shellac
4.10.0 From small insects (tree insects) – Laccifer Luca. Shellac is a resinous exudation
4.10.1 Found in east India and Thailand
4.10.2 The branches containing insects are removed and boiled
4.10.3 There are about thirty varieties – some crude, some refined
4.10.4 Main component is a complex mixture of high Molecular Weight hydroxyacids
4.10.5 Sometimes contains wax which acts as a natural plasticiser
4.10.6 Some are adulterated with rosin – comes as dark colour
4.10.7 Bleached Shellac is bleached with hypochlorites – it becomes insoluble with ageing and film forming properties and water resistance of film is impaired
4.10.8 Shellac is insoluble in water (HOH), but being acidic is insoluble in weakly alkaline solutions – was therefore emulsified
4.11 Synthetic Resins
4.11.0 Acrylate was first made as a permeable undercoat for nitrocellulose
4.11.1 Acrylate finishes are thermoplastic
4.11.2 Acrylate finishes can be dissolved by solvents
4.11.3 Sometimes toe puffs softened in solvent (methyl acetate). If puff put on too wet the solvents may attack the acrylate in the finish of the upper leather
4.11.4 The Toe Puff in a shoe is normally thermoplastic
4.11.5 Acrylates plastic rather than elastic
4.11.6 Other man useful resin since 2nd World War: dienes
4.11.7 Dienes are elastic rather than plastic
4.11.8 Acrylates superior to dienes in light fastness
4.11.9 Can add a stabiliser to dienes, but other additions can upset the film
4.11.10 Dienes are superior to acrylates in wet rub
4.11.11 The smaller the particle size the greater the penetration (this is generally true for all films)
4.11.12 After the war cellulose only used on special leathers as wide variety of resins available
4.11.13 Discontinuous films are required with resins available
4.11.14 Therefore add casein or wax emulsion, or linseed, which do not form continuous films with acrylate 4.11.15 These additions tend to harden film
4.11.16 Resin Finishes should not be allowed to freeze, as this produces irreversible changes
4.11.17 Sometimes manufacturers will not deliver in cold weather if they have no insulated lorries
4.11.18 Resin finishes internally plasticised give no trouble with kekkyness
4.12 Waxes
4.12.0 Waxes give a polish
4.12.1 Aid spot resistance
4.12.2 Carnauba wax (melting point 84deg F) is the best wax
4.12.3 Carnauba wax is very expensive
4.12.4 Yellow carnauba best for hard films
4.12.5 Grey carnauba is good enough for mixing with finishes. Grey is a fatty type
4.12.6 Carnauba is a vegetable wax
4.12.7 Carnauba is sometimes adulterated with candilla wax (also vegetable)
4.12.8 Gersthofen wax (BASF) is synthetic, but not so good as the vegetable
4.12.9 It is easy to make a was emulsion with ordinary soap, triethylamine soaps, or non-ionic emulsifiers (e.g.Lubrol w from ICI or Emulphor E from BASF)
4.12.10 Small amounts of micro crystalline wax is used in was to modify it and make it softer
4.12.11 TEA soap is best emulsifier as wax dissolves giving a very clear film
4.12.12 All above waxes similar to varnish, protecting, beautifying and shining
4.12.13 All an be tinted with dyestuff but cannot hold too much dye or it will rub off.
4.13 Pigments
4.13.0 Pigments came in in 1918
4.13.1 With original coats (casein etc.) pigment ground hides defects, levels the colour.
4.13.2 With the very best dyed leather you normally see a slight variation between butt and belly
4.13.3 White – TiO2 (Titanium dioxide) Brown – Iron oxides Yellow – lead chromate Orange – basic lead chromate or ferrite lemon yellow Black – black iron oxide, carbon black Green – chromic acid, chrome oxyhydrate,synthetic organic pigments Blues – synthetic organic pigments Reds – synthetic organic pigments 4.13.4 Organics are not volatile and fast to light
4.13.5 When using pigments you must know what type of finish is required
4.13.6 Do not mix more than one range of pigment finish. Mixing various types will give rise to errors
4.13.7 Aqueous pigment finishes are dispersions of pigment in aqueous media including casein (with or without the addition of shellac), wax, gelatine, mucilage, and plasticising oil
4.13.8 Inorganic pigments have a particle size greater than organic
4.13.9 Pigments, unlike dyestuffs, are insoluble in water or solvents
4.13.10 Pigments are opaque
4.13.11 Pigments have a hiding and obliterating power e.g. paints
4.13.12 Pigments are prepared by grinding natural, coloured rocks or ores to fine powders (e.g. iron oxides) or by roasting ores (Titanium dioxide), or by chemical preparation (lead chromate)
5.0 Putting Films on Leather
5.1.0 The film must not be too thick to detract from the appearance and the quality of the leather
5.1.1 The finish on the leather must be satisfactory to wet rub and dry rub
5.1.2 The finish must be capable of easy application by pad – no streaks, or by spray – evenly spread
5.1.3 The finish must adhere well – not powder or split
5.1.4 The finish should cover defects as required
5.1.5 Films must be designed in accordance with the way they will be used and completed on the leather. These will include such things as being: a. Matt or lively b. capable of being glazed c. capable of being brushed to a bright face d. resistant to hand ironing
5.1.6 Upper leather must be capable of getting through the shoe making process. This includes being able to be pressed without sticking to the plate
5.1.7 The finish, for all end uses, will need to be fast to light
5.1.8 The finish should not deteriorate with age
5.1.9 Finishes cannot improve the break of leather, only damage it
5.1.10 Put on as thin a film as possible
5.1.11 Finish films should have a secondary flow which evens them out
5.1.12 If leather is too absorbent this secondary flow cannot occur
5.1.13 To thicken a film add thickening agents or remove water
5.1.14 To thin a film a.add water, or b.add essential oil, or c. add alcohol, or d. add wetting agent (wetting agent tends to be disliked as likely to persist in the film and effect the finish qualities) or e. use two coats of the original film
5.1.15 With inorganic pigments there should not be problems of light fastness, except some yellows and oranges can darken
5.1.16 Adding dyestuffs to finish risks poor light fastness and wet rub troubles
5.1.17 Finishes should not be soluble in solvents such as those used in cellulose oversprays
5.1.18 Finishes must age without deterioration
5.1.19 Hardness (kekkyness) is caused by migration of plasticiser. The plasticiser is absorbed by the leather giving a hard finish on top.
5.1.20 Resin finishes are internally plasticised and should give no trouble with kekkyness
5.1.21 The best finishes are not continuous but look microscopically like dried mud. Continuous films tend to crack and give bad break.
5.1.22 The smaller the particle size the greater the penetration
5.1.23 The film that goes in well has good adhesion
5.1.24 The film that stays on top may tend to peel off
6.0 Making Finishes
6.1.0 Unpigmented finish formulation
6.1.1 Wax emulsion largely for top season binders
6.1.2 24lbs yellow carnauba 3/4 lb ceresin wax 48 ounce sulphonated cod oil 12lbs soap flake in 12 gal water at 95 degrees C (flanola good soap flakes) put whole thing through a milk cooler
6.1.3 Soap gives good filling properties
6.2.0 Glazing leather
6.2.1 Use protein, blood, small amounts of shellac
6.2.2 Fresh blood from slaughterhouse is preferred but hard to keep. Must clean the barrel, wash with formaldehyde, run round with a little benzene. Blood will then keep well.
6.2.3 1% ammonia on albumen assists dispersion
6.2.4 Casein, egg, blood, glaze well. They are not fast to rubbing and have to be fixed
6.2.5 Can add shellac but it melts on glazing
6.2.6 Top season after 1st glazing with large amounts of albumen may give more brilliance after 2nd glaze
6.2.7 Casein, shellac, blood and egg are film forming; to which are added plasticiser, fillers, and lubricant
6.2.8 For glazed leather generally: 8oz of egg albumen, 9 pints milk (contains cream – 32% fat), 3 gallons water
6.2.9 also for glazed leather: 100 casein 10 deg C, 60 milk, 320 water
6.2.10 also for glazed: 250 sodium alginate 2%, 40 milk, 80 blood albumen 10%, 30 water
6.2.11 A little dye can be added to
6.2.8, 6.2.9, and 6.2.10 6.2.12 Box lustre: 40 water, 9 casein, and 2 borax added to 10 water, 10 fish glue, 7 D.E.G.
6.2.13 Also: 2and 3/4 lbs borax plus 2 and 1/2 gallons stirred, dissolve the borax, add casein and apply steam. 12lbs casein plus 3 and 3/4 lbs TRO. (highly sulphated castor oil). Excessive TRO but often excessive to get better film
6.2.14 And also: 70grams water, 4p Ammonia 880, 14 lbs shellac all mixed and then add 1/2 gallon diethylene glycol
7.0 Flesh Finishes
7.1.0 These include mulches, boshes, and moss backing
7.1.1 Designed to close flesh up
7.1.2 The film must be evenly penetrated and bend with the leather in the same way as the grain. If the film goes in too far the flesh fibres will stick out and still be loose. If the film sits in the surface it will not bend with the leather. Penetration is a matter of finish viscosity.
7.1.3 Finish penetration is also affected by plating, and/or fluffing then plating, and/or a light bosh, fluff, clean, and a second coat (if leather very absorbent)
7.1.4 For chrome splits use either an acrylic binder or rubber latex plus a strong mucilage (this is much cheaper)
7.1.5 Can buy a made up formula
7.1.6 Example finish: 30gram soap flakes in 8 gallon of water plus 13gram of methyl cellulose (450 viscosity in 8 gallon) a. thin for light leathers, b. not at all water resistant, c. for heavy leather splits, sole leather, dressing leather, some kips
7.1.7 Another example for wallet leathers: 2 parts casein 12%, 6 parts water, 1 part m/c 2500 v 2%, 1/2 part shellac all with 1% HCHO when spraying
8.0 Pigmented Finishes
8.0.1 Very often binder with the pigment ground in. BOUND – PASTES – DISPERSION – POWDER
8.1.0 Bound
8.1.1 Balanced mixture. Casein, shellac – wax 10% – 15% pigment
8.1.2 Lot of binder
8.1.3 Very thin: easy to measure out small quantities of pigment
8.1.4 Normally used in vegetable, semi chrome to get a lot of binder in. (for resins you want the minimum amount of binder)
8.1.5 10% pigment finish (by volume) must be added to get even colouring
8.1.6 Some can be glazed
8.1.7 Not fast to wet rub
8.1.8 Cannot be fixed
8.2.0 Pastes
8.2.1 Most common by far
8.2.2 Thick
8.2.3 Casein plus oil
8.2.4 20-30 per cent pigment
8.2.5 Put on spray, glaze
8.2.6 Then season 100pts glaze lustre, 50 blood, 5 TRO, made up to 1000 with water
8.2.7 Then plate or hand iron
8.2.8 Formulation: 100pts paste pigment (organic or earth colours), 30-50 glazing lustre ( casein – a casein plus fish glue), 5-10 parts paraffin emulsion, to 1000 parts with water
8.2.9 Dyestuffs are not desirable with these (not rub fast)
8.3.0 Dispersion
8.3.1 Thin (strong – apt to sediment, which it should not – depends on dispersion agent)
8.3.2 Must be constantly stirred
8.3.3 Contains little or no binder
8.3.4 40-60% pigment
8.4.0 Powder
8.4.1 Mainly exported
8.4.2 Made with casein plus pigment plus borax and grind
8.4.3 Or do this damp and dry out rather than grind
8.4.4 Very good to export to hot countries where a great danger of evaporation
8.4.5 Bottom finish for unglazed leather: 40 wax (carnauba), 100 bound pigment, 25 plasticiser (TRO/Glycerine/OEC – 1/1/1), 100 water gives excellent cover with poor stock
9.0 Troubles in Pigmented Finishing
9.1.0 Putrefaction
9.1.1 If finish diluted (pH reduced: concentration of antiseptic reduced)
9.1.2 Antiseptic should be not less than 0.1%
9.1.3 pH should not be less than
9 9.2.0 Settling
9.2.1 All apt to settle
9.2.2 Especially so if diluted
9.2.3 Test by putting some in a cylinder overnight
9.2.4 Sometimes redisperse by stirring
9.2.5 Sometimes the settled material goes hard (return to supplier or get new supplier)
9.2.6 Sometimes settle in layers which are very hard to disperse a. make the finish more viscous b. add ammonia
9.2.7 Sometimes you get coagulation when stirring
9.2.8 Never add HCHO
9.3.0 Freezing
9.3.1 Produces reversible changes in resin finishes
9.3.2 Some manufacturers will not deliver in cold weather if they do not have insulated lorries
9.3.3 Precipitation of resin often brings down pigment as well
9.4.0 Incompatibility
9.4.1 If not compatible check pH of each
9.4.2 Raise the pH of lower to that of the higher
9.4.3 Use ammonium hydroxide
9.5.0 Foaming
9.5.1 Very complicated
9.5.2 Foam gives difficulties with spraying, curtain coating and the like
9.5.3 Foam reduced with alcohol or something which will evaporate off rather stay in the finish
9.5.4 If two finishes apparently equal always choose one which does not foam
9.5.5 Foaming is sometimes caused by beating air into the mixture
9.6.0 Hard Water
9.6.1 Can upset finish
9.6.2 Sometimes obvious, sometimes not
9.6.3 Check by making finish up with distilled or soft water
9.6.4 Threshold softening done with EDTA or Calgon
9.7.0 Foreign Bodies
9.7.1 Jam the guns on spray machines
9.7.2 Gives the leather a rough, harsh feel
9.7.3 Filter with nylon
9.8.0 Containers
9.8.1 Prefer plastic or stainless steel
9.8.2 Galvanised not recommended
9.8.3 Enameled liable to chip
9.8.4 Aluminium suspect in alkaline conditions
9.9.0 Application
9.9.1 No padding machine does the job properly. 1-2 operators are needed to smooth off afterwards
9.9.2 Streaking is caused either an over absorbent leather or a very non absorbent leather
9.9.3 Usual streaking comes from the over absorbent leather and can be overcome by plating before padding, thickening the finish, and/or juggling with water content It is also possible to give 2 coats the first with weak soft resin (5% solids) and the second covers
9.9.4 Sometimes a supplier may send two supposedly identical resins but with different particle size. The larger particle size will penetrate less
9.9.5 If the first coat is too resistant the second will not adhere. May be caused by plating being too long or too hot after the first coat. Or there may be too much wax in the first coat.
9.9.6 Excess wetting agent in the first coat may make the first coat too wettable. Also caused if the first coat is not thoroughly dried
9.9.7 Streaking may be caused by padding down too far – effectively by working the finish too dry
10.0 Corrected Grain
10.1.0 First Coat
10.1.1 This is a vital coat
10.1.2 Decides the character of the final leather
10.1.3 The leather must be correct
10.1.4 The coat must penetrate correctly – bind the fibres together
10.1.5 The softest resins possible are used. (use harder resins for scuff resistance, and water resistance, later)
10.1.6 The covering power of pigment is important
10.1.7 Pigment particle size is important. Inorganic is greater than organic. Consequently inorganic gives greater cover.
10.1.8 The transparency of the film is modified by the choice of pigment and the pigment/binder ratio
10.1.9 The selection of the leather must be modified according to the colour used.
10.1.10 Use as little pigment a possible
10.1.11 If you over bind your first coat with white it soon becomes yellowy
10.1.12 1st Coats Calf Corrected Black White Glove Case Resin Binder/Pigment M(med) 1.35 S(soft) 1.5 S+M 1.0 M 0.9 S+M 1.2/2.5 S+M 2.0 2nd Coat Resin B/P M+A(acrylate) 1.2 M+A 2.5 1.0 1.2 M+H(hard) 3.0 3rd Coat Resin B/P H 1.9 H+M 1.2 M+H 3.0
10.1.13 For Case leather the second coat will be abrasion resistant, with little bending or flexing
10.1.14 For Case leather the 3rd coat may often include casein
10.1.15 The first coat Binder/Pigment ratio is
1.1/1.2 for semichrome, softie, and lining
10.1.16 For the first coat on splits it is 2.3
10.2.0 Splits
10.2.1 Splits are tricky to finish
10.2.2 The finish sometimes surrounds the fibres and leaves them sticking up
10.2.3 After a few weeks aging the finish then fails
10.2.4 To avoid this, buff or use a mucilage or weak soft resin first coat
10.3.0 Moss Backed Splits
10.3.1 Pigmented – reduces elasticity of film
10.3.2 First coat filling, hen second with a little pigment.
11.0 The Customer
11.1.0 Break
11.1.1 Cardboard break must be avoided
11.1.2 Cardboard break can be obvious early on or can appear after aging if the plasticiser migrates
11.1.3 This latter happens if large amounts of plasticiser is used (not recommended) or if the plasticiser is overcome by the fatliquor – if large amounts of mineral oil used or only sulphonated oils
11.1.4 Bad break can be caused by overbinding the film with pigment
11.1.5 A pigment finish with a lot of Turkey Red Oil added must be watched. The pigment may be internally plasticised.
11.2.0 Butadiene resins are apt to oxidise and crack. Some splinter like glass after six months.
11.3.0 Finish should be even all over
11.4.0 Protein is fixed with formaldehyde (HCHO) and with Chrome acetate
11.5.0 For a good wet rub it is important to get the 1st coat right and to build on that.
11.6.0 If the dry rub is poor go for harder resins.
11.7.0 To get heat resistance put hard material on the bottom and build on that
11.8.0 If you get discolouration in white and pastels a. the fatliquor may be wrong b. loose vegetable tans may be migrating to the surface c. Do not scour or use sumac in the retan. Chlorophyll will come through d. lead chromates may give trouble
11.9.0 In shoemaking solvents are used and some resins are more resistant than others, Toe puffs in shoe making using ketones and acetones can destroy adhesion film in the leather (proteins are not affected)
11.10..0 For resistance to cracking in the cold the thickness of the film can be important.